My Favorite Photos from 2008
The "yearly roundup" of best photos seems to be standard protocol for photography bloggers, so here we go! I did a similar thing last year, but with just 10 photos. This year, I took way more photos (somewhere around 12-13K) so there was no way I could keep it down to just 10 — plus I uploaded around 1000 just to Flickr in 2008.
Hitesh had a good idea for breaking things down by month, so I figured I would give that a try. Each month, I picked around 4 or 5 of my favorite photos (though some months have a few more). I'm also writing this article as a project entry for Jim Goldstein — there's still time to participate if anybody else is interested.
JANUARY
January was a slow month for photography. We had a few family visits and we spent most of our free time hanging out at the beach, going to the zoo, and partaking in various other family activities.
FEBRUARY
February was a little more active with photography stuff. I upgraded from my Konica Minolta Maxxum 7D (6MP) to a Sony a700 (12MP). I was also participating in the February Challenge. I took a ton of photos at the La Jolla photowalk, which had a great turnout.
MARCH
March was super busy. We had two big photowalks (Venice Beach and Laguna Beach), lots more family gatherings, and I managed to go back home to North Idaho for Easter and a bit of skiing. March was also significant because I started shooting film with a camera my Dad gave me… and it's been all downhill from there.
APRIL
April was a little more relaxed than previous months. I spent a lot of time photowalking by myself in various towns in San Diego County. I was also going full steam ahead with the film camera, and learning the ropes. The kids were up in North Idaho with their Grandparents, so my wife and I got to hang out and pretend to be childless.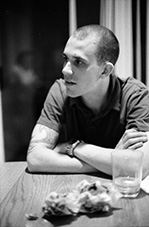 MAY
May was pretty laid back, not much different from April. Family visits, trips to the zoo, hanging out at the beach, etc. One exciting thing that happened was I picked up my first medium format film camera — my 1956 Minolta Autocord TLR. So yeah, the film saga continues.
JUNE
The start of Summer was certainly busy. I went on two more group photowalks: Hollywood Blvd and Huntington Beach. The Hollywood photowalk was also a photographer's rights rally, so it was pretty interesting. The one at Huntington Beach was just a few good friends, but we had a great time as usual. I also did a few solo photowalks down in Little Italy of San Diego. Again, lots of film photography — and I picked up a "Polaroid" (it's actually a Minolta InstantPro) to add to my growing collection of cameras. I believe June is also when I started shooting 110 film (as did my son).

JULY
July was a slower month for some reason… I seem to go in cycles, on and off about every other month. No group photowalks in July, just some solo stuff in Little Italy and Ocean Beach.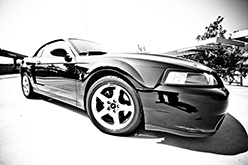 AUGUST
August was again busy. Two more group photowalks: Newport Beach and Long Beach. Plus a solo photowalk at Mission Beach (yes, we have lots of "beaches" around here). August was also the month that I got my Diana+ and I've been shooting way too much medium format since then (not that this is a bad thing).
SEPTEMBER
September stayed pretty busy even though Summer was officially over. I did two more group photowalks with just one or two other photographers. One was all over San Diego with Richard Wong including Border Field State Park, Coronado, La Jolla, and the Torrey Pines Gliderport. The other photowalk was at Santa Monica with my pal Bryan.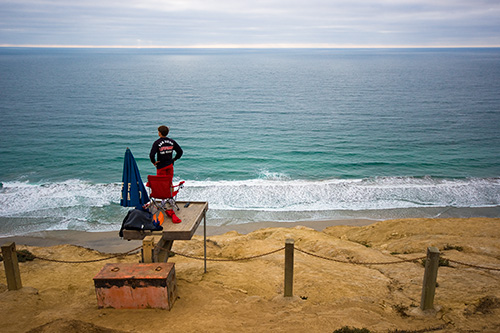 OCTOBER
I kept somewhat busy in October. We did one group photowalk at Venice Beach — which always makes for some good photo ops. I also had jury duty for two weeks and I ended up being an alternate juror. So at the end of the trial I just had to be "on call" while the others deliberated. That gave me three full days to wander around downtown San Diego with some black & white film loaded up!
NOVEMBER
November slowed way down compared to previous months. No photowalks, solo or group. Lots of hanging out with family as we approached round 1 of the holidays. I also got my darkroom up and running in November, so I spent a lot of time in there rather than doing other things — well worth it though! You can see some of my prints on Flickr.
DECEMBER
December was also pretty slow for photography. I don't know what happened, but I got so busy with things and I hardly had time to pick up a camera. I did get one shot that I really like though…