eBook Review: The Magic of Black & White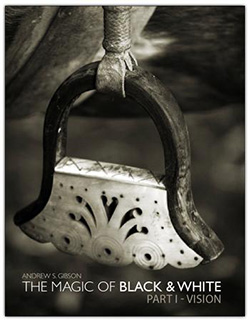 I'm a real fan of black and white photography — doesn't matter if it's film or digital. There's just something about it that can transform a photo so drastically by the "simple" removal of color.
So I was thrilled when my buddy Andrew Gibson contacted me about the release of his book on "The Magic of Black & White". He's a great photographer and his black & white photos are stunning — so I was certain that the book would be a good one.
I was right.
The book is a relatively quick read, but offers up a great number of tips, techniques, and guidance for black and white photography. It's also beautifully illustrated with a ton of Andrew's fine art work.
See the end of this post for a chance to win a free copy of the book.
"The Magic of Black & White, Part One – Vision" can be purchased through Craft & Vision. The links in this post are affiliate links.
ABOUT THE BOOK
The Magic of Black & White is a 58 page downloadable PDF eBook. The book is intended to be viewed in a two-page format (as you can see by the dashed lines in the samples below). Throughout the book, you'll be presented with specific topics on black & white photography and large sample photos from Andrew's collection of work.
After a few single-page "chapters" (Introduction, Why Black & White?, The Art of Black & White, and Learning to See in Monochrome), we dive into The Elements of Black & White Photography. This section covers many topics along the lines of tonal contrast, highlights, simplicity, minimalism, complexity, shape and form, texture, lines, foreground interest, negative space, shapes and patterns, and contrast. Each topic gives thoughtful insights and supporting imagery.
From there, we move on to Light in Black & White Photography, which covers the various lighting scenarios and how to use them to your advantage. The last main section goes into Subjects for Black & White Photography, and we look at several options where black & white may make more sense than color. This is all followed up by a conclusion and final thoughts from Andrew.
ABOUT THE AUTHOR
Andrew Gibson is a writer and photographer based in the south of England. He works for one of the UK's leading photography magazines and also freelances. He loves to travel and one region he's been drawn back to time and time again is South America, in particular Argentina and the Andean regions of Bolivia and Peru. He works in a 'fine art documentary' style and presents most of his work in black and white.
You can find Andrew's work at his main website or at his blog. He's also a regular contributor at Phototuts+, Smashing Magazine, and the Fine Art Photoblog. On top of all that, he's an employee of EOS Magazine. Busy guy!
MY FINAL THOUGHTS
The eBook is longer than a blog article, but shorter than a printed book. I feel that the eBook medium is perfect for what is presented. Andrew gives a great introduction to black and white photography with content that strikes a perfect balance between educational and inspirational. It's not so technical that the beginner will be lost, and not so "artsy-fartsy" that it isn't informative — again, it's just a great balance.
I would personally recommend this eBook to anybody looking to explore or improve their black & white photography. It will definitely get your gears turning and probably give you a few new ideas. At the time of publishing this review, the price of the book is $5 USD (subject to change at any time), which is a steal if you ask me.
Part Two of this book (to be announced) will examine the means of creating the black and white image in the digital darkroom. I'll update you guys when it's published.
"The Magic of Black & White, Part One – Vision" can be purchased through Craft & Vision.
WANT A FREE COPY?
[UPDATE 03-30-2010: The contest is over, and the winners have been selected]
Andrew has also given me a coupon code for 3 free eBooks to give out! I have a feeling that this particular contest will draw quite a few entries, so I'm limiting the entry period to ONE DAY (contest will end March 30, 2010 at 8am PDT). Here's how you can enter for a chance at a free book:
1) Submit a photo and/or link to a black and white photo you've taken. The photo must be your own. Bonus points for supplemental descriptions.
OR
2) Submit a Flickr Gallery (not a set — a gallery) of black and white photos. Curate a gallery and pop the link in the comments below. Bonus points for supplemental thoughts within the gallery and/or comment.
One entry per person; only the first entry for any given person will be considered. Again, ONE DAY for entries, and I'll post a comment of my own stating the cut-off time — so if you don't see the cut-off comment, feel free to post an entry.