Book Review: The Contact Sheet
If you don't know by now, or if you're new around here, I'm a HUGE fan of good photo books. I love looking at great photos and I can appreciate the effort that goes into making a book full of them.
I'm also into film photography and I like seeing photo books that exhibit some old-school stuff. And with any photo book, it's unusual to see additional photos that weren't selected for display or publication — so this book is pretty special since it breaks that boundary.
AMMO Books contacted me about a 2nd edition printing of a pretty awesome book, and I couldn't pass it up! Contact sheets from famous photographers, full-page selections, and photographer backgrounds… this has greatness written all over it.
The Contact Sheet (ISBN 978-0978607692) can be purchased directly from AMMO Books or through Amazon.com
. The Amazon links in this post are affiliate links.
ABOUT THE BOOK
The Contact Sheet is a hardcover book containing 192 pages of photographer bios, contact sheets, and photos from 44 well known photographers. The book is of average size measuring in at 10.4×8.4 inches and around 1 inch thick. Each photographer is given a minimum of a background/bio, a contact sheet, and a final selection from that contact sheet (some are given a bit more than this). In addition, the written portions are published in English, French, German, and Spanish.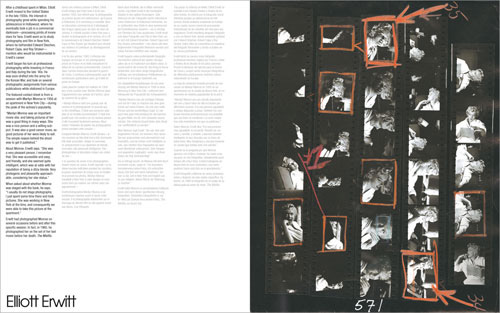 The thing that hits you about this book is that there are some really iconic photos (and photographers) contained within. Some of my favorite and other well-known photographers appear, such as Elliott Erwitt, Jerry Uelsmann, Dorothea Lange, Pete Turner, Anton Corbijn, William Wegman, and many others.
As I mentioned, some of the photos are recognizable icons — photos of people such as Carla Bruni-Sarkozy, Allen Gainsberg, August Sander, Marilyn Monroe, Aretha Franklin, Richard Nixon, "Migrant Mother", Jim Morrison, and… need I go on? You've probably seen a good handful of these legendary photos somewhere in your travels.
Aside from all the icons and legends, the REALLY neat thing about this book is the fact that you get to see the whole contact sheet that the image came from. So you get to see all the different poses, takes, and trials that went into it.
ABOUT THE AUTHOR
Steve Crist is the publisher of AMMO Books and has also personally edited and created outstanding titles such as GONZO, The Curse of Lono, Marilyn, Jazz Life, Steve McQueen, and The Polaroid Book.
MY FINAL THOUGHTS
The Contact Sheet is a very worthwhile book for art and photography enthusiasts. After reading the photographer bios and viewing the contact sheets, you'll view the selected photos in a whole different light. On one hand, you see that it took more than one shot to get the final photo and not every shot on the roll was a "keeper". On the other hand, you gain a deeper respect for the selected photo when you see just how special it is.
The Contact Sheet (ISBN 978-0978607692) can be purchased directly from Ammo Books or through Amazon.com
. The Amazon links in this post are affiliate links.
WANT A FREE COPY? WE HAVE TWO!
[UPDATE 5/7/10] The contest deadline is over. I'll pick out the winners soon and post an update to the blog. Thanks to all the folks who entered!
[UPDATE 5/10/10] The winners have been announced.
This is going to be a quick one, so pay attention. You have two ways to enter for a free book, and you can enter both ways to increase your chances.
DO THE RETWEET
Just post this little gem to your Twitter status: "RT @epicedits Book Review: The Contact Sheet https://bit.ly/bcCTFj" or hit the green "retweet" button on this post. (one entry per person)
COMMENT ON MY FILM BLOG
Since the book is all about film photos and contact sheets, head over to my film photography blog and leave a (thoughtful) comment on any of the posts — include the phrase "THECONTACTSHEET" in your comment to be eligible for a free book. (one entry per person)
So get on it — I'll cut off the entries at the end of May 6, 2010 and pick out the random winners. Each winner will receive a free copy of The Contact Sheet book, courtesy of AMMO Books.