Digital WakeUp Call Tour Still Running Strong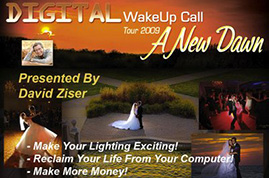 Just a quick reminder for the Midwest and East Coast folks — the Digital WakeUp Call Tour is on the final stretch and if you live in these areas, be sure you don't miss out!
For $60, you get a huge amount of information packed into a single night. David covers everything from lighting equipment and techniques, portrait composition tips, post processing, workflow, final presentation, product ideas for wedding/portrait photographers, and tons of other great business tips. David Ziser has been in the business for quite some time and he has a huge wealth of information to share.
Again, if you're located in the Midwest or East Coast regions, check out the city listings and dates to find the closest venue.
DIGITAL WAKEUP CALL
$20-OFF CODE: ZEEDWC09
DAVID'S BLOG