Digital WakeUp Call + Photo Contest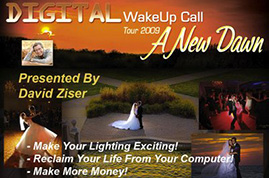 Learning about photography online is a great method for improving your game, but real-live instruction and interaction is far more valuable. I'm excited to announce that David Ziser will be traveling the country (to 58 US cities!) and sharing his great knowledge of photography, lighting, post-production, and marketing with his Digital WakeUp Call.
The class alone is worth the entry fee of $79, but David is taking things a step further. Everybody will receive $350 worth of extended content and giveaways. PLUS, he's got $3,500 in prizes to give away at each session and $6,000 in grand prizes for the whole tour!
ABOUT THE PROGRAM
David Ziser is a master of his trade, and he's a well established photographer and educator. The class is aimed at wedding and portrait photographers, but it will certainly be useful for any type of photographer. In this program, he'll be covering three main topics over the course of a full 4-hour evening:
Lighting Techniques
An intensive session on creative lighting and exciting composition, for both on-camera and off-camera flash.
Post-Production Workflow
A discussion of five major workflow techniques, tips, and shortcuts aimed to reduce your time at the computer and improve your quality.
Business Strategies
A discussion of creative and effective business strategies, no matter what level you're at with your photography business.
$20-OFF PROMO CODE: ZEEDWC09
If you want to register for the program, just visit the Digital WakeUp Call Tour website, find a location near you, and register for that spot. Be sure to use the promo code above to get a $20 rebate on the registration fee! That brings the price down to $59 — totally worth it for what you'll be learning!
COMPETE FOR A FREE PASS
Not only is David giving out $20 discounts, he's also offering a free ride for one reader of Epic Edits. We're doing this as a photo contest, with the topic of "Exciting Lighting". Just submit your image or link in the comments below — 1 photo/entry per person.
Here's the only catch: the image must have been created using a portable flash. It could be on-camera or off-camera, either way is fine. The contest is open to US residents only (David's tour isn't international this year).
I'll pick the winning image in one week — March 12, 2009.
SO REMEMBER…
First and foremost, visit the official Digital WakeUp Call website to read all about this program. If you're interested in attending, use the promo code above to save yourself $20. Or if you want to try for a free ride, post your best "Exciting Lighting" photo in the comments of this post.
And for you photography bloggers out there, check out David's recent blog post for more information on offering your readers the same $20 discount while getting yourself a free pass to the program.
I'll definitely be attending the San Diego session on May 21. Though I'm not a wedding or portrait photographer, I know that I'll learn a ton of great stuff from David.