Waterfalls, long exposure, landscapes, and lenses…
Today we have found some engaging articles, how-tos, and tips from around the web. We will learn how to take long-exposure photographs, get some tips on color landscapes, analyze the debate between DSLRs and mirrorless for landscape photographers, and learn how to embrace golden hour landscapes to name a few.
So let's get started…
Learn how to take amazing long exposure photographs like the ones below with this course – Have you ever looked at a landscape photo where the water has that dreamy effect and just been blown away? How do photographers take these amazing photos and make them look extraordinary?  You can learn this simple technique, that will blow your mind, and put the pizzazz back into your photographs. This guide will walk you through every step with a complete description and a visual reference. This ensures that your technical knowledge will be complete – so take a look here.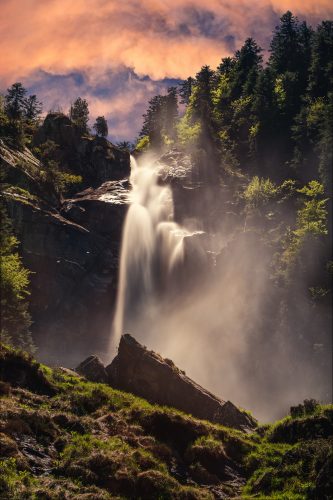 7 Tips for Colorful Landscape Photography – One of the amazing things about using color in your photographs is that it can evoke emotions. While being technically proficient is great, the one thing you really want to do is imbue your images with intentional emotion, so that they resonate with your audience (even if that audience is yourself)
5 Reasons for Landscape Photographers to Switch to Mirrorless and 5 Reasons to Keep Your DSLR – More on landscape photography, and this is a great take on a current debate. Overall, the industry is transitioning to mirrorless, but should this mean that you dump that DSLR and make the switch? This video sums up the debate nicely.
5 Tips to Dramatically Improve Golden Hour Landscapes – One of the most amazing times to capture landscapes in all their glory is, of course, during golden hour. Golden hour is that time of day just after dawn or just before sunset when the light is more saturated and…well golden! Here are some great tips on using this beautiful light to your advantage.
The Top 10 Best Sigma Lenses You Can Buy Right Now (Prime & Zoom) – Here is a great review of the more outstanding Sigma lenses available. Sigma makes some great lenses but often you can get the focal length you are after at a lower price point than the name brands. It is worthwhile taking a look at what is available, as you can potentially get more for your hard-earned dollars
Chasing the perfect waterfall shot – Here are some quick tips on taking great shots of waterfalls. If you've ever wondered how to get that dreamy, flowing water effect then take a look at this piece.