eBook Review: Portrait Tips and Techniques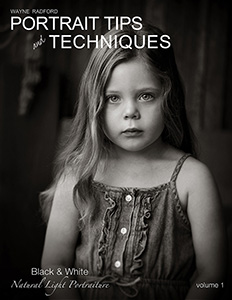 Portraits… a very broad topic with deep technical and artistic aspects. A portrait photographer must have control and understanding of the subject, surroundings, light, and camera in order to create images with impact. This is generally the case in any type of photography, but portraits demand a higher level of control.
Educating yourself on the subject of portraiture can be difficult because of the inherent technical material. But with the right teacher or author, this material can be absorbed with minimal pain to the brain.
Volume 1 of Wayne Radford's Portrait Tips and Techniques is a book that covers the many aspects of black & white natural light portraiture (and the material applies to color portraits as well). The lessons and teachings are somewhat technical, but the material is presented in a "down to Earth" fashion that anybody can understand. You can download an 8 page sample of the eBook here [PDF].
Check the end of this review for your chance at a free copy of the full version!
You can purchase Volume 1 of Portrait Tips and Techniques from Wayne Radford's website. Links in this post are affiliate links to the product.
ABOUT THE BOOK
Portrait Tips and Techniques, Volume 1 is a 126 page downloadable eBook containing 4 main chapters encompassing 10 distinct lessons. The end of the book also contains a selection of sample work from the author and a couple of clean and concise guides to facial analysis and lighting. And the supporting graphics… this book has over 90 great sample shots, diagrams, and charts. Click on the images below for a larger view.
The book starts off with an introduction from the author in addition to some extra background material on his journey as a portrait photographer. Then we jump into "Facial Recognition", or posing techniques for your subjects. The next main section is "Lighting Techniques", all of which are in the realm of natural light. The last two chapters cover "Exposure" and "Composition" as they relate specifically to portraits. The book wraps up with a sample gallery of work from Wayne Radford and two single-page charts for lighting and posing (very handy).
Throughout the book, sample images and illustrations are used to convey the lessons found in the text. Wayne also deconstructs his photos to convey a particular technique and show how it was used to create that photo. All in all, this is a very visual guide.
ABOUT THE AUTHOR
Wayne Radford is an Australian professional portrait photographer specialising in Black & White, and he's been doing it for over 25 years. While he's done his fair share of weddings, in 2000 Wayne switched over exclusively to children's environmental portraiture.
Throughout his career he has received numerous State and National awards for his unique style of photography including the Australian Professional Photography Awards category; "1996 Wedding Photographer of the Year" at both National and State judging. In addition he also received the classification of "Master of Photography". On two occasions he has won the "Highest Scoring Black & White Print" at these awards.
You can see some of Wayne's work on his Radford Photography website and on Flickr. For his non-portrait work, also check out his Radford Editions website.
MY FINAL THOUGHTS
This is a wonderful, educational, and inspirational book on the topic of portrait photography. I love the fact that it focuses on natural light techniques and uses black & white images for illustration. It's direct, focused, and it cuts out the extra fluff and off-topic discussion.
This would be a great book for two types of photographers: those wanting to learn portraits from the ground up, and those wanting to add more to their existing knowledge of portraiture. Either way, this book will certainly step up your game.
You can purchase Volume 1 of Portrait Tips and Techniques for $19.95 until December 20, at which point it will return to the regular price of $24.95. (the image says Dec 12, but the end date is really Dec 20)
WANT A FREE COPY?
[UPDATE 11/22/2010] The winners have been chosen. You can see the results here.
Of course you do! I've got 3 copies of the eBook to hand out and we'll run this as a simple raffle in the comments below. Here are the rules:
One entry per person.
Leave a comment with the word "freebook" in there somewhere.
Do it on or before 11/19/2010.
After the deadline, I'll pull 3 random numbers and see if the corresponding comments have the word "freebook" in them. If not, I'll pull additional numbers until 3 winners have been chosen.