Filter Forge Photoshop Plugin Review (And Giveaway)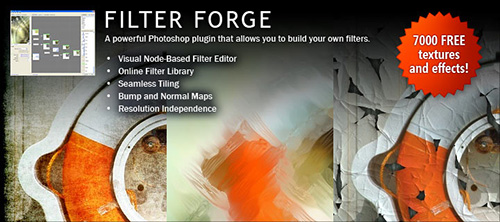 The folks at Filter Forge contacted me about reviewing their advanced Photoshop plugin software. I'm always interested in checking out new things, so they provided me with a review license of the software and I started exploring it. I must admit that it's an impressive piece of software.
Read on for my review and be sure to check the details at the bottom about the contest and prize giveaway. This review contains affiliate links.
WHAT IS FILTER FORGE?
Filter Forge is a Photoshop plugin with a huge variety of filter and texture options for photographers and designers. The plugin contains over 7500 textures and filters, most of which are user generated. And that's another key feature of the software — you can generate your own filters and make them available to other users.
The real strong point of the Filter Forge software is the extensive library of user generated filters and textures. There is a seemingly endless supply of options out there, and the library is constantly growing. The folks at filter forge also offer an incentive to create and promote new filters, handing out reward points for the more popular filters created. Those reward points can earn you discounts and free software.
There are two sides of Filter Forge — textures and effects. If you're into applied textures, this software will keep you occupied for quite a while. At the time of writing this review, there are nearly 4000 textures available. Filters, or creative effects, are also in abundance with over 3600 options. You can search and browse through the filters at the Filter Forge website.
WHAT CAN YOU DO WITH IT?
Applying filters is relatively simple. You start up Photoshop, pull in your image, and start Filter Forge from the Filters menu. Once inside Filter Forge, you can select the textures or effects you want to apply, check out a few presets, or modify the settings for that particular filter. After you apply the filter or texture, you're back in Photoshop. That's pretty much it.
Creating filters is a little more complicated, but the interface is still fairly simple. You can start from scratch or modify an existing filter by using the components available in the filter editor. These components include things you would find in Photoshop: brightness, gamma, hue, saturation, threshold, invert, levels, curves, gradients, blurs, blends, and a whole bunch of other tools you won't find in Photoshop. The process is very similar to creating a Photoshop action, but more visual and self explanatory.
Enough talk, here are a few of my own photos with various applied filters. Click on the image to see the originals at Flickr.
MY FINAL THOUGHTS
This is certainly a handy piece of software for the folks that apply textures and filters on a regular basis. The sheer quantity of options is staggering. If you're a "naturalist" with your photography, maybe this isn't for you. But other photographers, and even graphic designers, should check it out if it sounds remotely interesting.
Filter Forge can be downloaded as a 30 day free trial with no other limitations (and check out the free plugin packs on the same page that don't require the Filter Forge software). If you want to buy the software and continue to have access to the full library, you have three price options: basic, standard, and professional editions. The basic edition only allows you to use the filters, the standard edition allow you to create your own, and the professional edition has a bunch of other bells and whistles. Check the website for prices because they may change in the future.
WHO WANTS A FREE COPY?
Now for the fun part — I have three licenses for the basic edition of Filter Forge to give out! We'll run this as a photo contest using the Filter Forge plugin (and if you don't have Photoshop, you can use it as a standalone software). Here's what you need to do to enter:
STEP 1. Download a free copy of Filter Forge and install it.
STEP 2. Choose any photo of your own and apply your favorite filter.
STEP 3. Email your photo to [email protected]. Size it to 1000px on the long edge, make sure to include your name, and tell me which filter(s) you used.
DEADLINE: October 10 13, 2010
One entry per person and the photo used must be your own. By entering the contest you only give Epic Edits the right to display your image as a contest entry no larger than 500px. You retain all rights to your photo.
After the deadline, I'll size the images to 500px and post them here on the blog along with your name and the name of the filter used. I'll choose the three winners myself (or I'll have a couple of guest judges help me out).