7 More Tips for Extremely Wide Angles
Just under one year ago, I wrote an article titled "8 Tips for Shooting Extremely Wide Angles". I wanted to follow up with some additional tips on the subject… and of course, more great photos for your viewing pleasure.
So here are 7 more tips for shooting with extremely wide angle lenses. Some are brand new, and some are an expansion from the previous post. Either way, enjoy!
1. PAY ATTENTION TO YOUR FRAMING

photo credit: Maurizio Polese
Extremely wide angle lenses make everything look smaller. This poses a problem when looking through the viewfinder because objects inside the frame can be hard to notice. Chances are, you'll be paying attention to the overall image and the composition, but these minor details (especially around the edges of the frame) can slip by. What you end up with is a good shot ruined by some small thing down in the corner of the frame. Sure, you can crop it or clone it out, but it's better to pay attention when you press the shutter.
2. SHOOT A CUSHION SPACE

photo credit: mugley
Because of distortion, wide angle shots are difficult to get straight. You typically don't have a perfectly straight line to set your tilt, so you might end up with a slightly crooked shot. This happens more often with this type of lens, so leave a small amount of space around the edge if you're unsure of your leveling abilities. Even if you shoot straight, you might want to crop down the outer edges just a bit. Distortion increases toward the corners and it can really stretch things out.
3. GET CLOSER

photo credit: orangeacid
When shooting extremely wide, you'll need to get extremely close to your subjects if you want them to be more than a minor detail in the photo. These lenses can usually focus fairly close, so you can get within several feet and focus with no problem. Just be careful that you don't get too close — appearances in the viewfinder can be deceiving, and you might bump your lens into your subject.
4. STEP BACK

photo credit: kwerfeldein
Contrary to the last tip, you might want to step back from your subject. This is more well-suited for the landscape photos. Sometimes you have large foreground elements that you want to include in your composition. Just step back a few paces and the whole perspective changes — things up close get significantly smaller, while things way out there don't change much.
5. ENSURE STRAIGHT LINES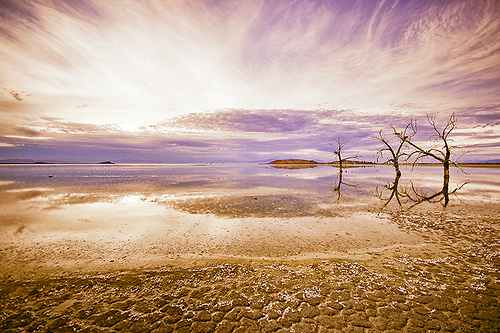 photo credit: Brian Auer
Some wide angle lenses are better than others when it comes to distortion (you can tell by the price tag). But all wide angle lenses share the characteristic of having minimal distortion at the center of the lens. This also works for the horizontal and vertical center-lines of the lens. If you place a horizon at the top or bottom of the frame, it will probably be distorted. But place the horizon at the center of the frame and it should be almost straight. This also works for vertical lines in things like architecture.
6. DISTORT REALITY

photo credit: B Rosen
Sometimes you want to be a deviant and break "the rules", right? All you have to do is ignore the last tip. Shoot straight lines near the edge of the frame and you have a whole new reality. You can also get really close to small stuff and shoot against a distant background of big stuff. Or perhaps you could take some portraits at a minimum focus distance and go for the big-nose look.
7. GET CREATIVE AND HAVE FUN

photo credit: tricky ™
Super-wide angle lenses are fun to shoot with, but they require a bit of creative thought sometimes. Try out different combinations of subject distance, frame location, perspective, and secondary subjects. You might be surprised at the results every once in a while.
How about some other examples of extremely wide angle photography — drop a photo in the comments below, and leave a tip or two!