The Photojojo Guide to Slow Photography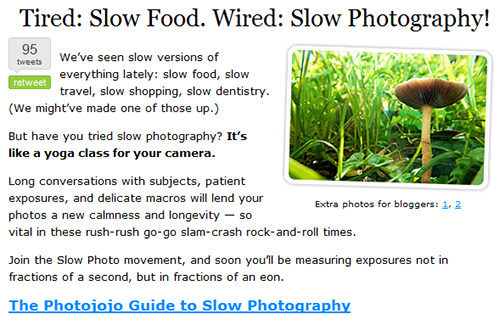 […] in general, the goal of Slow Photography is to capture photos that celebrate the passage of time. You can do that by taking photos that show time passing, like the long-exposed streak of a train across the plains; or you can spend a long time preparing to snap your shutter, such as the ornithologist who waits for four hours to glimpse a yellow-bellied sapsucker.
This one is a good little introductory article to long exposure photography, full of ideas and inspiration. The main points are portraits, landscapes, and macros. And the tips for each point are directed toward capturing long exposures in those given situations.
With the cheap fast lenses available today, it's easy to ignore this area of your shutter speed setting. If you haven't done so yet, maybe get out there and try your hand at it.
Do we have any long exposure fans in the crowd? Do you guys have additional tips? Or perhaps some cool photos to share in the comments?