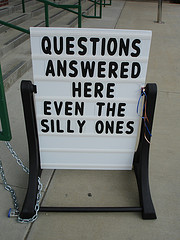 photo credit:
Travelin' Librarian
I get a fair amount of questions on the post comments and direct contact. I should try to make a habit of highlighting some of those questions and responding to them because I'm sure others could benefit from that.
I dug back into the archives and pulled a few of the more general questions and answers. Hopefully these will help out some of you that may have the same questions. And if you have other questions, definitely ask in the post comments if it is specific to the article, or contact me directly if it's something we haven't covered yet. I'll try to hang on to those from now on so I can share the answers with everybody.
So here we go, 10 Q&A bits from the archive.
Bill on "Quick Tip: Format Your Memory Card"

I have a memory card that we have already used. Now the computer is asking us to format the card. Is there a way to format the card without losing the photos on the card?
No, formatting clears all the data from the card. Try downloading the photos from the camera to the computer with a usb cable (most cameras have this). If that doesn't work, try a card reader (if you have access to one). You might even bring the card to a local computer or camera shop to see if they can access the images with a different card reader/computer.
Julia on "How To Create Photoshop Actions"

I've done a couple actions, but how on earth do I share them with friends? Can't find the files on my computer… Do I have to save in some special way?
You have to save them out — you should see an options for loading and saving selected actions in the pull-down menu of the actions panel. This will allow you to save out a .atn file. Just make sure you have the action or group of actions highlighted before you save.
Jim on "Flickr Etiquette Basic Guidelines"

One thing I have noticed is that there seem to be many people who have no photos of their own, in fact they do not even have a buddy icon, and of course no real name given. These people tend to have amassed hundreds or thousands of favourites of women, some scantily dressed, some not. Many seem to be cross-dressers, perhaps looking for fashions to favourite. Most of these people never leave comments. Should I be concerned if photos of my wife are made favourites by these people? […]
I know the type you speak of. I'll usually block them just because they're not trying to be part of the community and it's really creepy when you look at their faves. Obviously, you can do whatever you wish with these followers, but I'm typically not a fan of the "super-creeper" gathering photos of my Wife.
Sangeeta Das on "13 Alternative Flower Photography Tips"

[…] I want to know how is the dew drop trick done… is it just a macro shot or some post processing?
The only way I know to do those dew drops is to use a macro or super-macro setup (with reversal rings and whatnot). Otherwise, you just can't get close enough to get high quality images. https://www.wonderfulphotos.com/articles/macro/dewdrops/
Jim on "7 Reasons To Love Prime Lenses"

Are prime lenses really that much cheaper than zoom lenses? when I looked at canon 50mm f/1.8, which was probably the cheapest lens ever, it cost about $99. And the next one 50mm f/1.4 would cost as much as my Rebel XSi body. And neither one is the L series.
For the same quality, they are far cheaper. But they can be expensive too, especially when you want larger maximum apertures. With 50mm lenses, once you go larger than f/1.8, the price goes up exponentially. While the f/1.8 costs $99, the f/1.4 costs $400, and the f/1.2L costs $1600.
But now look at zooms in the 50mm range and you'll see that you can't get anything below f/2.8 or f/3.5. That's a full 2 stops slower than what you can get with a prime, and the price is way higher than $99.
Adam on "60 Second Post-Processing Technique"

[…] if this is the first round of processing, wouldn't further detailed processing potentially be done in something like photoshop? […]
Photoshop would be one option to finish it off. I typically go back into Adobe Camera Raw (or Lightroom) to finish images with additional tweaks and adjustments. I'll go into Photoshop if I need to do something extreme, utilize the LAB color mode, clone something more difficult than dust spots, etc.
Jeff W on "Making Fine Art Prints: Signing"

[…] If it's "acceptable" to sign in ink or paint right on the image I would much rather do that in the future. I did try that with a white paint pen I got at Michael's but even after drying overnight it smudged. Some of these just don't adhere to photographic paper. Does anyone have a specific brand or type of pen they can recommend?
I've used two different pens, they both work great and dry fast.
https://www.sakuraofamerica.com/Marker-metallic-paint
https://www.marvy.com/product_details.aspx?ProductID=39
kevin on "7 Reasons To Love Prime Lenses"

Nice article, but what is the focal length we usually need? And what do you suggest for canon when price is not a problem? Is 50mm f/1.8 sharp enough? Or we need 1.2?
The focal length you need will of course depend on what you plan to photograph. Landscape photographers may opt for wide angle, portrait photographers for mid-range, sports photographers for telephoto, etc. If you use a zoom, take a look at your photos and see what focal length you typically shoot at — this should give you a good starting point. I can't really comment on what to buy for Canon if price is not a problem, but I think the "L Series" lenses are the top quality pieces. As for the 50mm, f/1.8 will be fine for most people, and plenty sharp if you stop down one or two stops (as is the case with most lenses). The f/1.2 will give you more light, but I can't comment on the sharpness gains over a f/1.8 or f/1.4.
C B on "Cross Processing Tips and Suggestions"

[…] I have some Ektachrome that I plan to cross process. I was wondering if shooting it through a red filter would make it so the green wasn't so extreme? […]
I'm not sure what would happen if you shot with a color filter… it might work, but it might also take some experimentation to get the filter strength and color correct.
C B on "Cross Processing Tips and Suggestions"

[…] Will E-1 or E-2 film cross-process with C-41 chemistry? Or should I just sell it to someone who's a collector and buy E-6? I don't want to pay the big bucks to have it processed E-2.
I really don't know about E-2 stuff. I did find a discussion about it at photo.net: https://photo.net/film-and-processing-forum/00DzKU
So next time you have a question on a given topic, feel free to ask in the comments. I usually try to answer right there within a day or two, but I might also bring it back up in another post like this in the future. And if anybody else out there has something to add to the questions above, chime in right here or on the original posts!