13 Alternative Flower Photography Tips
Flowers are so cliche when it comes to photography… but that doesn't stop most of us from shooting them! Heck, some photographers even specialize in flower photography and they do a darn good job of it. If you're getting bored with your current bag-o-tricks for photographing flowers, scan through these tips and get inspired to try something different.
1. DITCH THE COLOR
Flower photos are generally full of vibrant colors, but that's not the only way to do it. Black and white flower photos can bring much needed attention to details and textures that would otherwise be masked by the blinding colors.

photo credit: linh.ngân
2. USE AS A FOREGROUND
The flowers don't always need to be the center of attention. Use them as a foreground or background to lay down some color for your main subject. Bonus points for using complimentary colors in your composition.

photo credit: creativesam
3. LOOK INDOORS
Flowers are inside too! Not every flower photo needs to be 100% "natural" — try your hand at some still life.

photo credit: mamako7070
4. DOUBLE EXPOSE
Flowers can make for pretty cool double exposures. Experiment with combinations of up-close and far-off shots of the same flowers.

photo credit: [email protected] Walker
5. GO ABSTRACT
Flowers have great curves — so use that to your advantage. A good macro setup will allow you to capture abstract images of the colors, curves, and textures.

photo credit: nothing
6. REFLECT WITH WATER
Reflection can be a powerful composition technique, and flower photography is no exception.

photo credit: peasap
7. FOCUS ON SYMMETRY
Reflections are a type of symmetry, but flowers often exhibit another type of symmetry: radial. Use the radial symmetry of most flowers to create a strong composition.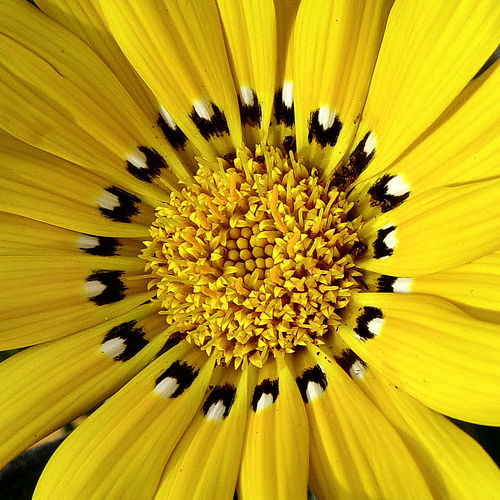 photo credit: josef.stuefer
8. PAINT YOUR OWN FLOWER
Light painting is another interesting style of photography, so why not mix it up with flower photography?

photo credit: Brian Auer
9. CATCH A BUG
That's right, catch a bug in your frame. Those little insects can often add a lot to your image by catching the eye of the viewer. Anything unexpected will generate interest.

photo credit: Vanessa Pike-Russell
10. BE A SMURF
Sometimes you have to get a little dirty to get the shot. Macro photographers will often wear grungy clothes for nature outings (or bring a blanket/tarp) because they know they'll be laying on the ground at some point. Get down there and see how the world looks from the perspective of your feet.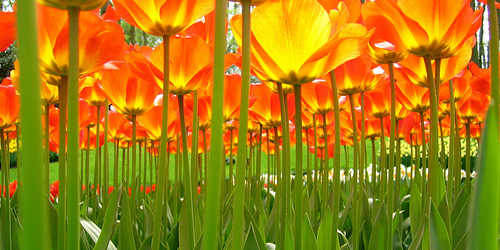 photo credit: ♥siebe ©
11. FIND URBAN FLOWERS
Flowers grow in cities too! Next time you're in an urban environment, keep your eyes peeled for flowers growing naturally or even landscaped flowers.

photo credit: Pedro Moura Pinheiro
12. DO THE DEWDROP TRICK
Most of us have seen these types of photos with the flower inside the dewdrop. Still, it's a pretty cool trick and you can do it with more than just flowers.

photo credit: ~jjjohn~
13. USE AS A PROP
If you're doing people shots or portrait photography, try adding flowers as a secondary subject or background.

photo credit: Simon Pais-Thomas
Do you have any flower photography tips or examples? If so, leave them in the comments below!