Digital WakeUp Call… Is AWESOME!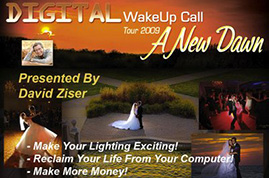 So I finally got the chance to meet with David Ziser in-person last night. His Digital WakeUp Call tour was here in San Diego for the evening, and I couldn't pass up the opportunity to go hang out with him and learn a few things from a true professional.
Some time ago, I mentioned David's upcoming tour and offered a discount code (which is still ok to use). At that point, I hadn't experienced the seminar first-hand, but I knew it would be very good based on David's level of experience.
Well now I can say for sure that this is an event 100% worth going to. David managed to pack probably 15 hours of lessons into a 4 or 5 hour session — he's very high energy. The main focus of his discussion is on-location lighting and wedding/portrait photography, but much of what he speaks about can be applied to any type of photography and photography business (LOTS of business ideas and tips). He also touches on some software and workflow tips, giving great insight to how he gets his work done.
At any rate, I just wanted to let everybody know that you still have a chance to register and attend the seminar if it hasn't happened yet in your town. Highly recommended. Have any of you attended yet? What did you guys think?
DIGITAL WAKEUP CALL
$20-OFF CODE: ZEEDWC09
DAVID'S BLOG
And a big thanks to David for taking the time to chat with me and have a beer after the event! And thanks for the mentions at the event and on the blog today (see here)!