Making Fine Art Prints: Introductions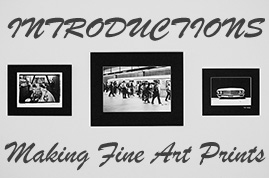 Making prints sounds simple at first — just hit the print button, right? Well… yes and no. Prints can actually be quite involved depending on how far you want to go with them. Once you cross the line of producing a signed print, you're basically putting your integrity on the line. A signature is a "seal of approval" when it comes to prints, and this is something you shouldn't take lightly.
UPDATE: I've changed the title of the series from "Making Prints for Display" to "Making Fine Art Prints". I think it's more fitting for the topics we'll be discussing.
Signing prints seems to be a "hidden secret" for those who haven't done it yet. Nobody really talks about it! In addition, signed prints tend to go beyond just a signature: prep, print, frame, ship, etc. But don't get overwhelmed — there's a common theme among all of this: "the photographer is in-charge of the final product." Whatever you decide to do, there's no wrong answer. The discussions that follow are not intended to be hard-set rules, only suggestions and guidelines.
DISCLAIMER: Let me get this out of the way right up front… I'm not a professional artist, I don't do this every day, and I don't know all the answers. I'm going to rely on the audience to help fill in some of the blanks along the way. I'm also not a lawyer, and the discussions in this series may or may not apply to things like "limited editions" from a legal sense.
I also have to give credit to Justin Korn for instigating this discussion. He asked a question about signing prints via FriendFeed, and the discussion exploded (see here). I quickly realized that the topic was of value to more than just one person, so I figured we could open things up here on the blog.
Since the subject of producing prints for display covers many aspects, I thought that a series would be in order. Here's what I had in mind for a few upcoming blog articles:
PREPARING – Making decisions prior to making the print and how those decisions will effect subsequent steps.
PRINTING – How to produce the best quality work and how to handle the finished product.
SIGNING – Placing your "seal of approval" on the print and a discussion of the various methods for doing so.
FRAMING – Mounting, matting, and framing of prints as an optional step in the process.
SHIPPING – Once everything is done, we'll talk about how to get the print packaged and shipped to avoid damage.
This whole series of articles will be quite open to discussion, suggestion, and modification. Right now, I'm asking you to provide feedback on the main topics and the subtopics contained within. Are those 5 main topics enough to cover all of your questions? And what specific things would you like to see discussed in each one?
As we dive into each topic, I'll present material based on what I know. Then, I'll ask all of you to provide feedback and additional knowledge on the subject. After posting each article, I'll let the comments run wild for a few days and then I'll take some of the better comments and place them back in the main article (with attribution, of course). In the end, we should be able to produce a good resource for the topic of producing prints for display… maybe even another eBook.
FOLLOW THIS SERIES OF ARTICLES!
NEXT — PREFACE