Photography Business: The Next Level
photo credit:
Gerard Girbes
This article was written by Tasha Schalk of Redwall Photo. Read on for great information and details on a project (with prizes!). And be sure to read her full bio at the end of the article.
You know how to take great pictures, you get a lot of praise on Flickr and from friends and family, but what next? How do you market yourself as a photographer? How to do you start up a small business? Photography and marketing are two completely different talents, and it can be daunting to make the leap from amateur photographer to semi-professional. Below are a few steps that might make the transition a little easier.
Also, in the spirit of start-up businesses, I am providing a $25 gift certificate to Moo.com and Tracy of Three Heart Photo is donating a 50% off gift certificate for select design services at Three Heart Design. Both of these prizes will go to one winner – to enter, either leave a comment or a link to a blog post about your photography business goals for 2009. What is one thing you want to accomplish in 2009? It can be anything from second shooting at a wedding, to booking a certain number of paying shoots, or to creating a portfolio. Let us know! Brian, Tracy, and I will be chosing the winner.
PROJECT DEADLINE: MARCH 20, 2009
And remember, a comment and/or a link to a blog post will enter you in the contest.
1. Branding
From wikipedia, "a brand is a collection of symbols, experiences and associations connected with a product, a service, a person or any other artifact or entity." Branding is important because it conveys what your photography and style are all about in one brief glance.
The first step is to devise your company name. Many photographers base their business name off of their own name, others chose something a little different. Whatever you chose should reflect you and your style of photography, and it should be concise and timeless. Pick something that you will not get tired of.
A logo is an important step in branding. The colors and style of your logo should reflect who you are as a person and an artist. For example, if you are a maternity/baby photographer, your logo might be comprised of soft pastels. If you are an event or corportate photographer, you would want clean lines and neutral colors to communicate your professionalism and flexibility.
An extension of a logo is a watermark. A watermark is placed on photos to mark that photo as yours. Many people also employ watermarks as a deterrant to theft. I am a fan of watermarks, not so much for the theft issue, but because it constantly puts your name out there. There are several types of watermarks – those that are intended to deter theft and cover vital parts of the image, and those that are small and unobtrusive along the bottom of an image or in a frame. Which watermark you chose to use is up to your priorities.
2. Business cards
Business cards are a necessity. They are an old-school form of marketing, but effective and cheap. You never know whose hands a business card can fall into. And even better, give friends business cards so that they can hand them out when they run across someone that needs a photographer.
Much of business comes from word of mouth and referrals, so make it as easy you can for people to refer others to you.
3. Get a website/portfolio
Portfolios are necessary so that those people that you hand your business cards can see a showcase of your work. A portfolio should have no more than 15-20 of your absolute best images, with your strongest image at the end, and your second-strongest image at the beginning (first and last impressions are the most important!). Try to show diversity in your images (if possible, only one image per shoot), but remember to make sure that the photos represent your style.
Photoshelter recently released the results of a survey that they conducted on image buyers. The report is a good resource to use when designing (or buying) a photo site design. The report can be found here.
If creating your own webpage, a few cheap and reliable hosts are godaddy.com and 1and1.com. If buying a pre-made portfolio, bludomain.com is popular for higher-end portfolios, while carbonmade.com is a cheaper (but not as flashy) solution. If creating your own website, simpleviewer and autoviewer are easy to use and customizable flash galleries.
Also, don't forget to get a domain name to match your business name!
4. Network, network, network
Everyone knows someone. Talk to everyone you can. Sign up for social-networking sites such as Myspace, Facebook, Twitter, and Flickr. Get your photos out there, so others can see your talent.
Always be on the lookout for photo-ops – this can include businesses and individuals. For example, if a business is having a grand opening, contact a manager to see if they would like photos throughout the day. If you know of someone that is graduating, ask if they would be interested in graduation photos. Once you get a large enough client base, word of mouth will travel, and you will have offers coming in to you.
Along with networking comes networking with other photographers. Do not be afraid to refer clients to other photographers if you cannot cover an event or job, not only will other photographers begin to refer jobs to you, but you will also have a client that remembers you for taking an interest in their needs. Part of being a professional is also ensuring that you can deliver whenever you book a job. If you do not have experience in a specific area, do not book the job (refer the job to a fellow photographer!). Your clients will respect and trust you for maintaining high expectations for your own work.
5. Pricing
This is one of the hardest areas of starting up a small business. What to charge? You want to charge enough to make it worth your time, but worry about driving away clients with too-high prices. The short answer is that there there is no definite answer.
One way to figure out how much to charge for a shoot is to develop an hourly rate that you would like to earn, then multiply that by how many hours it will take you to plan the shot, take the pictures, and edit and deliver the shots. Don't forget to figure in travel time/costs if the shoot is not local. Then add in 10-15% for gear wear-and-tear and other unforeseen expenditures:
Rate * (planning + shooting + editing + travel) * (10% incidentals) = PRICE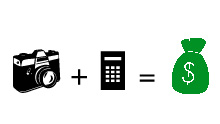 Remember, that fee is just for shooting – you need to figure in licensing costs and printing fees if you are licensing or printing images.
Also helpful is a program called FotoQuote that provides quotes for a variety of types of photography.
Finally, once you have your prices figured out, create a concise, but complete, rate sheet that shows your prices and packages that you can either post on your website or can send to potential clients.
6. Legal mumbo-jumbo
If you are working with clients, it is important to have a contract that outlines what both parties have agreed to. These contracts should (at the least) outline what work is being delivered, dates and times of shoots, what the price is, and what reproduction rights, licenses, and copyrights the photographer and client have. A fantastic resource for basic contracts is the book Business and Legal Forms for Photographers by Tad Crawford.
Also, insurance is highly advisable. Most major insurance companies will offer business insurance, which will not only cover theft/damage of equipment, but will also offer medical and liability insurance for when you are on-location on a shoot. In my experience, the piece of mind that business insurance brings is well worth the relatively low fee. For more reading on business insurance, check out photo.net's info page.
Conclusion
Above all, be professional and have fun. Nobody wants to work with someone who does not return phone calls and emails, or shows up to consultations in their pajamas. On the flip side, photographers most often shoot joyous or exciting events, so potential clients want someone that will enjoy their day with them. If you are enthusiastic about your job and work, then others will get exited about your work!
If you have any other tips or invaluable resources, please speak out in the comments!
About the author:
Tasha Schalk is a professional photographer in the Chicago-area and owner/photographer of Redwall Photo. Her passion and specialization is music photography, which is evident by her sleep-deprived eyes and arsenal of fast lenses. She also is the full-time photographer for Concordia University Chicago, where she is laden with assignments for event, editorial, and portrait photography. She spends way too much time online, frequenting her Flickr, Twitter, and Myspace accounts.
About the sponsor:
Tracy Tesmer is the owner/photographer/designer of Three Heart Design and Three Heart Photo. She helps photographers, artists, designers, and independent businesses market and re-brand. She is an eco-friendly studio and designer with a background in painting, set design, makeup design, photography, and drawing. Three Heart Design can be found on Flickr, Twitter, and Facebook.