Epic Styler Contest Winners and Download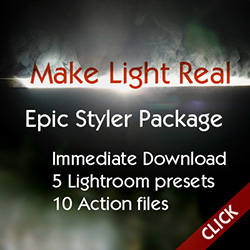 I've been putting this one off for way too long. If you remember back a few months, I announced the 8th Epic Edits project: "Action and Preset Extravaganza". The deadline was over a month ago, and we had 6 people contribute 15 different Photoshop Actions and Lightroom Presets.
Neil Cowley of Make Light Real, sponsored the project and gave out three grand prizes to the best entries. He's also hosting the package of presets and actions as a free download, so don't forget to jump over to his site and grab them!
THE WINNERS
Tasha Schalk with her Rock Concert Photoshop Actions.
Martin Kimeldorf with his Photoshop Action for exposure blending.
Phill Price with his monochrome architecture pink Lightroom Preset.
The other entries included a color pop Photoshop Action from Tom Weeks, a Flickr resizer Photoshop Action from me, and a 300 movie style Lightroom Preset from Mike Lao.
THE PRIZES
1ST PLACE: LIGHTSPEED WORKFLOW PACKAGE
Valued at $290, this prize includes a Nostromo n52 left-hand keypad, "ONE" Lightroom/ACR preset, "ONE" Photoshop Action, and tutorials. This is an awesome package! This winner will also receive a $39 credit to use toward any additional items from Neil.
2ND PLACE: PHOTOSHOP LIGHT REAL VIRTUAL COURSE
Valued at $250, this prize includes the "ONE ACTION" workflow scripts plus a 4 hour training course covering the workflow scripts and working in LAB color space. This winner will also receive a $39 credit to use toward any additional items from Neil.
3RD PLACE: ONE ACTION AND GOLDEN TOUCH PACKAGES
Valued at $79 and $49, respectively, this prize includes the "ONE ACTION" scripts and presets for Photoshop and Lightroom, plus extra training materials along with additional Photoshop actions and 30 textures.
A BIG THANK YOU!
First of all, I want to thank all the participants that took the time to post their actions and presets for the greater good of the community. It's great to see people willing to share their knowledge and their tools with fellow photographers.
I'd also like to thank Neil for sponsoring the project and hosting the final download package. He's had a very active role in this project, and I look forward to working with him again in the future.
Don't forget to download the actions and presets from the project entries. And if you're into free stuff, check out Neil's other free downloads.