Photo Backup: Working Drives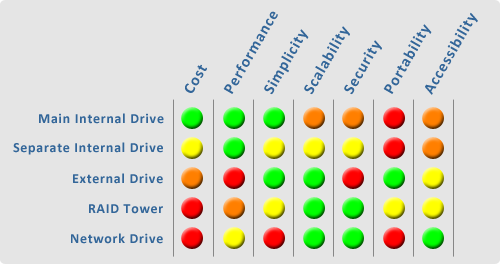 A good photo backup strategy starts with your working hard drive(s) — that place you use to access and work on your photos. If you don't have a clean system for keeping your original copies, your photo backups are going to be a nightmare — especially if you've got stuff strewn between several computers and various external hard drives (you know who you are).
FOLLOW THIS SERIES OF ARTICLES!
TOC — PHOTO BACKUP GUIDE
BACK — HOW BIG IS YOUR PHOTO COLLECTION?
NEXT — INTERNAL HARD DRIVE
There are several basic options for working drives, and they all have their pros and cons. You may not be ready to completely change your game plan right now, but this could be something to think about the next time you upgrade your computer (or run out of disk space).
MAIN INTERNAL DRIVE
Computers require a hard drive to operate and that hard drive usually has some extra space on it for your personal documents. When you journey into photography, this main drive is usually where the photos get stored.
PROS — performance, simplicity, cost. Today's computers have plenty of hard drive space, usually sporting between 200 and 500 GB of capacity. Unless you're shooting with a pro-level camera (and doing lots of it), this hard drive space will probably last a while. Internal drives are great for speed too — with the latest SATA 3.0 drives clocking in at 3 Gbit/s (or 375 MB/s) communication rates.
CONS — scalability, security, portability. If you keep shooting, you will run out of space at some point. Plus it's a pain to transfer photos when you decide to get a new computer. You also have to consider that you're sharing space with your operating system — that disk is constantly working overtime just to keep your computer running. More use of a drive can mean a quicker unexpected death.
SEPARATE INTERNAL DRIVE
Most computers have the space and connections to accommodate multiple hard drives. One drive can be used for your OS and your standard documents, and the other drive(s) can be used just for photos.
PROS — performance, scalability. Internal drives are way cheap and they come in many sizes to suit your needs. Since they're connected straight to your motherboard, you'll be enjoying quick performance while organizing and processing photos. If your photo drive fills up, you can get another one. And when you switch computers, you'll probably be able to just transfer the drives over without issues.
CONS — cost, difficulty, portability. I said they're cheap, but they still cost more than nothing. There's also a constant shift in technology that tends to obsolete hardware like hard drives. Then again, it's a good idea to get fresh drives every few years. You just have to make sure that you're getting the right type of hard drive to go with your motherboard — and you have to pull the computer apart to install it.
PRODUCTS — 500GB, 1TB, and 1.5TB Drives.
EXTERNAL DRIVE
An external drive is just an internal drive with a plastic box around it. They are typically connected to the computer via USB or Firewire, and juiced up with an external power supply.
PROS — simplicity, portability, scalability. Most external drives are pretty easy to set up and use — just plug it in and use it. They're also nice in the fact that they can be moved from one computer to another in very little time (handy for those who use a desktop and laptop). It's pretty simple to expand your photo collection with external drives too — just get another one and plug it in.
CONS — performance, cost, fragility. External drives cost more than internal drives because they have a convenience factor and they're covered in extra hardware. They're also free-standing units, which means that they can get bumped and knocked off the desk or shelf. External drives also tend to be slower than internal drives when reading and writing data.
PRODUCTS — 500GB and 1TB Drives.
RAID TOWER
RAID (Redundant Array of Inexpensive/Independent Disks) is a type of technology that uses two or more hard drives to achieve better performance and/or reliability. Similar to an external hard drive, RAID towers are just a box with multiple drives inside (but they have a brain too).
PROS — security, scalability, accessibility. The great thing about a RAID tower is that it protects itself against most hard drive failures. If one drive fails, pull it out, put a fresh one in, and let it rebuild your data. You can also upgrade your drives for additional space as the need arises. Most towers are also geared to attach to a network, so you can access them from several computers through a router.
CONS — cost, performance. These boxes are not at all cheap — because they're much more complex than a simple external drive enclosure. Some are like little computers on their own. Recent towers have gotten faster with data transfer rates, but an internal SATA 3.0 (375 MB/s) drive is still going to outperform anything external — even if it has multiple USB 2.0 (60 MB/s) ports, Firewire 800 (100 MB/s), or eSATA (120 MB/s) connections.
PRODUCTS — Drobo tower and Buffalo's 1TB, 2TB, and 4TB towers.
NETWORK DRIVE
There probably aren't too many people who would need this option, but it can be handy in a professional environment. A network drive is basically just a hard drive (or set of hard drives) that live in a dedicated file-server.
PROS — accessibility, security, scalability. When networked, these drives can be accessed from multiple other computers, and even across the web if you have the technical know-how. Good for a studio environment where many computers are used and workstations are upgraded regularly.
CONS — cost, difficulty, portability. In addition to the drives, you'll be paying for the extra computer hardware and the network equipment. Then you have to be knowledgeable on the fine art of networking computers. Plus you'll have another computer that needs upkeep on the software and hardware.
IN CONCLUSION
A good photo backup strategy starts with your working hard drive space. There are many options available to give you the performance and flexibility you need. The main things you need to consider are cost, performance, simplicity, scalability, security, portability, and accessibility. The most important thing is to find a solution that works for you, and be prepared to change your mind about your current setup as you get pulled into the hobby/career of photography.
What are you using for your main working drive? Are there any options that I've left out?