PHOTO PROJECT: The $50 Film Camera
Alright! It's time for another super-fantastic photography project here at Epic Edits! This project is truly shaping up to be of epic proportions. The theme will be film photography, and we have a couple of big-league sponsors and experienced judges rooting us on. This one will require a little more effort on your part, but I'm hoping that we can all get excited about this little adventure we're about to take on.
[UPDATE] The results of this project have been posted — be sure to check out all 80 film camera reviews that we received.
Those who have been following the blog are aware of my recent love for film photography — so this project should be of no surprise! The project will be open through mid-September due to the requirements I've set forth. Be sure you read through this announcement and if you plan on participating, you'd better get moving!
THE SPONSORS
I'm so excited to announce that we have not one, but two really awesome sponsors supporting this project! Lomography and ILFORD Photo have decided to pitch in some goodies for a few lucky contest winners at the end of the project.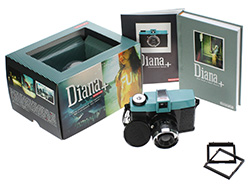 Lomography will be contributing 3 Diana+ cameras! Dating back to the early 1960's, the all-plastic Diana camera is a cult legend – famous for its dreamy, radiant, and lo-fi images. The brand new Diana+ is a faithful reproduction and a loving homage to the classic Diana – with a few new features tossed in. This is an amazing addition to any film photographer's collection. Lomography is a globally active organization dedicated to experimental and creative snapshot photography. Boasting more than 500,000 active members across the world, the idea of Lomography encompasses an interactive, democratic, social, cultural, vivid, blurred, and crazy way of life. Totally cool people in my book!
ILFORD Photo (part of Harman Technology, ltd.) will be contributing 6 bricks of 120 format black & white film to go with those Diana+ cameras! That's 30 rolls of pure gold my fellow photographers! We'll be splitting up 10 rolls each of their HP5 Plus, XP2, and Delta 3200 between the three contest winners — which also happen to be 3 of my favorite black & white films (Coincidence? I think not!). For over 125 years ILFORD Photo has set the standard for the highest quality photographic products and achieved legendary status throughout the worldwide photographic community. Today, ILFORD Photo offers a wide range of exceptionally high quality black and white photographic materials all featuring very high image quality, ease of use and consistently reliable results.
In total, we've got over $300 worth of prizes to split up between 3 contest winners! So if I've piqued your interest with these snazzy prizes, read on and find out how you can get some for yourself!
THE CONCEPT
This project has many different intents, and all of them revolve around learning and exploring new mediums. First and foremost, this project should be fun and exciting for any photographer to participate in. For those who have been brought into photography after the start of the digital age, this is a great opportunity to learn a little about the history of our hobby and pick up some new skills by shooting film. For those already familiar with the days of film, this is a great opportunity to get back to your roots and rediscover the magic of film photography. And for those already shooting film today, this is a great opportunity to share your knowledge with others and maybe pick up a new toy!
My main objective for the project as a whole is to show other photographers that film photography can be very inexpensive and exciting. For whatever reason, there's a popular belief that film photography is expensive and tedious. But through your participation in this project, we can disprove that point and show everybody just how great film can be.
THE REQUIREMENTS
If you're planning on participating in the project (and especially if you want to participate in the contest), pay careful attention to the following requirements. This is a multi-part project, and it's going to require self-publication of a little writing and a little photography. Also – the links scattered throughout these requirements will prove to be useful.
Find a Film Camera for Under $50
That's right, I'm asking you to spend money on this project (gasp!). Actually, you have two options here: 1) go buy a film camera, or 2) use one that you already have. I would encourage everybody participating to pick up a new camera, but if you're strapped for cash and you already have a cheap camera, go ahead and use it. You can use any type of camera as long as it's a film camera (and under $50).
Shoot Some Film With Your New Camera!
Go grab a couple rolls (or packs) of film and run 'em through your new toy! Get acquainted with your camera and make note of the ins-and-outs of your particular equipment and film you're using.
Write a Review of Your Camera
Once you've gotten comfortable with your camera, I want you to write a review of it. The purpose of this is to educate other photographers on that piece of equipment. Tell us where you got it, how much it cost, some of the cool features, some of the not-so-cool features, how to use it, what you love about it, etc. The sky is the limit here, and what you write is totally up to you.
Publish a Photo of Your Camera
To go along with your mini camera review, I'd like to see a photo of your camera. The photo can be taken with any camera of your choice — I just want to see what it looks like. This part is important, because your camera photo will be the link to your project entry when I post the final results (so make sure we can actually see your camera!).
Publish an Entire Roll of Photos
Hey, this is a photography project right? So let's post some photos! Along with your review, I want to see an entire roll of film that was taken with your new camera (and it doesn't have to be your first roll). Why an entire roll? Because it'll be neat to see any mistakes along with the gold nuggets.
Submit Your Link Here
I know, it may seem like I'm asking for a lot here, but there's really not too much work involved. To enter the project you will need to have a single URL link that will take me to your review, your camera photo, and your roll of film. There are plenty of ways to go about this — so no excuses!
DEADLINE: SEPTEMBER 12, 2008
Based on our project history here at Epic Edits, I'm expecting some very high quality project entries!
THE CONTEST
All project entries will be automatically entered to win one of three prizes from our sponsors (and all three prizes are the same). Two judges will each choose their favorite project entry based on the quality of the review and on the photos presented. The third winner will be a "people's choice award" decided by a poll when I post the final results. Here are your two judges:
Jim Talkington is a professional photographer of 20+ years, has had experience with advertising, photojournalism, editorial, catalog, darkroom technician, retail photo sales, writer, and many more facets of photography. He also has a strong history with film photography.
Udi Tirosh is a fellow photography enthusiast and photography blogger. He's got a DIY attitude and he's all about cheap and affordable photography equipment. Since this project is based around cheap old film cameras, I thought he'd fit right in as a judge.
So like I said, these two guys will each be choosing one winner to receive a Diana+ camera from Lomography and 10 rolls of film from ILFORD Photo. The third winner will be chosen by the blog readers. Good luck everyone!
THE ENTRY FORM
Before you enter your project, double check the requirements and rules posted above. If you don't meet the minimum requirements, I'll ask you to revise your entry. If you do meet them, I'll send you a confirmation email.
[UPDATE: Here are five project entries from week 1 that stand out as good examples]
IMPORTANT: When submitting your project entry, please provide the link to the specific web page for your camera review (and be sure that the photos are accessible from your review). A link to you website, blog, Flickr stream, etc, won't cut it. Please submit the page link.
[UPDATE] The results of this project have been posted — be sure to check out all 80 film camera reviews that we received.