Birthday Party Winners Announced!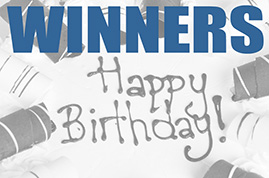 After seven days of gift announcements, I had my work cut out for me trying to keep track of the raffle entries. In total, we had 97 people enter into one or more prize raffles! Those same 97 people left a total of 405 comments during the month of January, and let me tell ya… it was a real treat doing the tally. I'm only sorry I couldn't share the joy and excitement of such a task.
Once the tally was complete, it was just a matter of cross referencing the comments with each of the seven raffles, assigning a raffle ticket to each person for each raffle they entered, and generating some random numbers. The raffle drawing went through without any issues or glitches, and we ended up with seven lucky winners.
I must say, you guys are all so awesome for showing such interest in the blog (and the prizes). I saw a lot of new names showing up, and I'm glad that those folks stepped forward and gave a holler. In the end, there could only be seven prize winners, but all of you are winners in my eyes! I've already contacted the lucky ones via email, but for the rest of you here are the results.
And here are a few numbers and graphs having to do with the raffle. This first chart shows that the most popular prizes were the Art Print and the Amazon Gift Card, followed by the Flickr Pro Account and the Photo Book. I'm flattered that so many of you opted for my photo and my photo book!
This histogram shows how many comments people left on the blog during the entire month. You can see that a majority of the raffle entrants left 5 or fewer comments. You can also see that only a handful of people left more than 15 comments over the course of the month.
In this next histogram, I've removed the raffle entry comments (the ones where you had to leave a key phrase in the message). The chart shows the remaining comments left by the entrants, in other words the "true" comments. You can see that a significant number of comments and entrants are completely removed from the chart, meaning that this group of entrants only left comments to enter themselves into the raffle (nothing wrong with that though!).
I'm not sure that any of this is terribly useful… I just kind of get carried away with spreadsheets and charts sometimes (it's not my fault, I'm an engineer). At any rate, I'd like to thank everybody who participated in this thing, especially the sponsors who stepped forward with the extra prizes — All Day I Dream About Photography, Image Keyworder, and Top Hosting Center.

And you're all invited to next year's party!