Photojournalism Project at PhotoAxe
PhotoAxe, a photography blog authored by our friend Lau from Romania, is gearing up to celebrate its 1-year birthday! Happy Birthday PhotoAxe! With that, Lau has launched a group photography project on the topic of photojournalism. She wants us to tell a story using 3-5 photos (old or new) and a small amount of accompanying text.
The deadline is January 1st, but don't wait until the end of December to submit your entry! Lau has chosen me to be one of the judges for the competition part of the project, where she'll be giving away the "Associated Press Guide to Photojournalism". Since I'm a judge I can't officially enter the project for the prize, but I've dug up some old photos of mine that I wanted to use as a project entry just for fun. So here we go, pictures first… don't laugh, I'm not much of a photojournalist.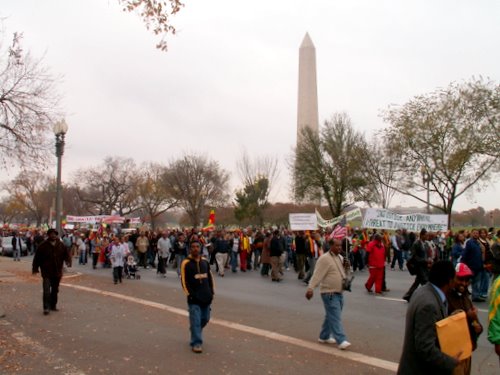 Tuesday, November 15th, 2005 — Washington DC >> Thousands of Ethiopians marched from Capitol Hill, past the State Department, and on to the White House seeking attention from U.S. Government. They urged U.S. Officials to pressure Meles Zenawi to free political prisoners and end the violence in their homeland. Since the elections for national and regional government councils on May 15, 2005, Ethiopia had been in turmoil and demonstrations had ended in death and violence because many felt the elections were rigged to favor Zenawi and his political party.