I've shown this photo a couple of times on the blog, once in my article titled "Create Dramatic Images by Shooting for the Sky". Even so, I haven't shown the post-process for the photo — somehow it slipped by without getting blogged.
This was taken out in the middle of the Palouse one sunny afternoon. I was visiting back home in North Idaho, and I went out for a photodrive (like a photowalk, but in a car) with my Dad and Brother. We went from Coeur d'Alene to Moscow (where I went to college) and back again, stopping along the way at anything of photographic interest. This old abandoned barn was just off a service road that connected to the highway, so we pulled off to check it out. I started playing around with my wide angle lens, and I found some interesting compositions (such as this one) between the clouds, the barn, and the hills. The interesting thing about the barn, is that it has the appearance to be leaning. Some of it is from lens distortion, but it's also because the barn really was leaning.
The JPEG (1) had kind of a darker blue tone to the sky than I wanted, so I fixed it up a little bit when I processed the RAW (2) image in ACR. After cleaning up a few dust spots, I applied a Curves Adjustment Layer (3) with an "S" curve to increase the contrast and start bringing out the color I was looking for. Then I increased the Saturation (4) just enough to finish off the color in the sky and the grass. This photo also got a little bit of Sharpening (5) just to give a little better definition in the grass and along the edges of the clouds. So this one didn't really get a lot of Photoshop attention — it didn't need it.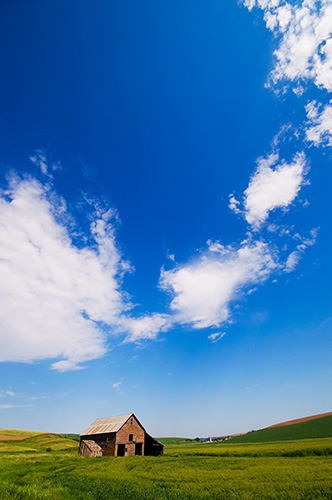 ** You can also see this photo on Flickr and Zooomr **
Photo by Brian Auer
06/03/07 The Palouse, WA
The Barn And The Sky
Konica Minolta Maxxum 7D
Sigma 10-20mm f/4-5.6 EX DC HSM
15mm equiv * f/11 * 1/250s * ISO100