So this is my third entry for my "Blown Away" project. I picked this one as my final entry because it has a strong overexposure in the Sun's reflection off the water.
The photo was taken on the beach at Santa Monica while I was at one of Trevor Carpenter's photowalks. I took this photo because I liked the simplicity of the small boats on the open water. It also turned out that the harsh reflection of the sun caused a severe overexposure. I wasn't planning on doing much with this one due to the blown out highlights, but it ended up being a good candidate for my project.
The JPEG (1) of this photo was really washed out and lifeless, but the processed RAW file (2) made for a good starting point. Before applying any adjustments, I made a copy of the processed RAW layer and applied a Hard Mix Layer Blend (3) at 30% opacity and 30% fill. Then I touched things up a bit with a Curves Adjustment (4) to give a little more contrast. The last step in my processing was sharpening using the Unsharp Mask (5) at 100%, 4 pixels, and a threshold of 2.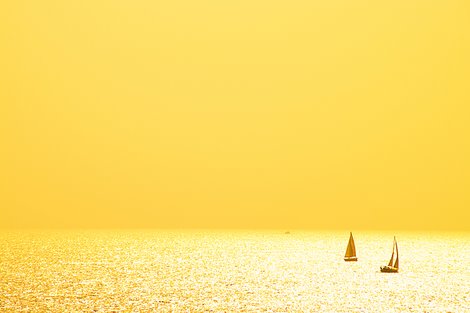 ** You can also see this photo on Zooomr and Flickr **
Photo by Brian Auer
08/04/07 Santa Monica, CA
Sailing on the Sun
Konica Minolta Maxxum 7D
Konica Minolta AF DT 18-200
300mm equiv * f/11 * 1/350s * ISO100