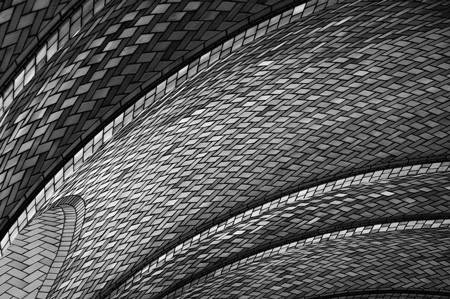 Brian Auer | 11/05/2006 | Ellis Island, NY | 157mm * f/5.6 * 1/60s * ISO400
[Print Pricing] [Signed Prints] [Buy Rights] [See it at Flickr]
I took this one inside of the Ellis Island building on the top floor. It's an amazing building if you haven't seen it before. The ceiling in this place is made up of a bunch of huge tiled arches. I just had to do something with them, so many lines and curves up there. I picked a few spots and started framing and composing in various ways. When all was said and done, this one struck me as the best of the shots. I knew, before I even shot it, that I would be turning these black and white. The tiles had different tones and created various patterns. I wanted to exploit that.
Original JPEG
This is what the camera spit out in the form of a JPEG, but I was also shooting RAW.
Processed RAW
During the RAW conversion with ACR, I added a little bit of contrast to give me a jump start.
B/W Conversion
Using Adobe Photoshop CS2, I applied a channel mixer at 18% red, 4% green, and 88% blue. These settings best brought out the contrasting tones in the tiles.
Curves Adjustment
To boost the contrast, I applied a curves adjustment layer with a slight "S" curve.
Sharpening
The final step was sharpening, which helped boost the contrast even more and really make the tiles stand out (though it's hard to see in the scaled down image comparison).
Enjoy!