Photography Business: Find a Photo Gallery
In my post titled Build a Photography Business in 24 Hours, I mentioned that I would expand on each piece of the puzzle for creating your own business. I'm using my recent experience with setting up Auer Photoworks as the basis for this guide. Here are all the pieces of the business-puzzle I talked about (with the * items being optional):
Gallery Software
This post will focus on step 2 of the critical items: Gallery Software. Your gallery software is your interface to the world. This is what you will use to display your work and communicate with potential customers. It doesn't have to be elaborate, but it should be professional, clean, and easy to navigate and operate.
If you feel like you need to design your own site from the ground up, more power to ya. If not, there are many options out there for photo galleries. Some are free, some cost a lot of money. Do your homework and check around. Find one that looks clean, is easy to use (for both site management and site navigation), and has a shopping cart built into it. Most of the bigger gallery software providers have a place where you can demo the storefront and the management interface. Here are a few of the galleries I came across when doing my research:
KTools Photo Store
Pixaria
I ended up purchasing the KTools Photo Store because of its good balance between built in features and price. The software is easy to customize and you can upload and organize your photos quickly from the web browser or via FTP. It has very clean interfaces and it's intuitive to use. The software also gives you the option to sell digital files and/or prints, so you have a fair amount of flexibility to what you can offer your customers. The shopping cart is integrated into the software and it has built in capability to offer customers checkout options of checks, PayPal, and Credit Cards — you just need a PayPal account, 2CheckOut account, or Plug 'n Pay account. The software also tracks orders and automatically sends email to you and the customer. The whole thing is written in PHP and utilizes a MySQL database, so the code is easy to modify if you know a little PHP.
If you don't want to spend any money and you know more than a little PHP, take a look at the Gallery package. I use it for my family web album and it's pretty darn good. You'll have to integrate your own shopping cart and checkout options for selling, but everything else is basically done for you. The software has a huge community following with lots of support and software add-ons from other users.
Whatever you do, pick your software carefully. Make sure you're happy with it, and it does what you need it to. Tomorrow, I'll be talking about web hosting companies so you have somewhere to put your new software.
Photo of the Day…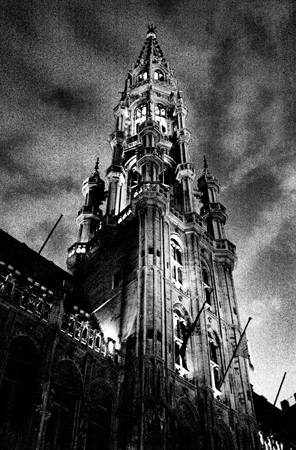 Photo by Brian Auer
03/07/07 Brussels, Belgium
The Tower of Brussels
Konica Minolta Maxxum 7D
Konica Minolta AF DT 18-200
42mm equiv * f/4 * 1/10s * ISO1600