Camera Finders, Photo Flip-Books, and Lens Distortion
How Popular is Your Camera?
Photodoto poses the question "Is It Time For A New Camera?"  The question is followed up by a discussion around what's popular with Flickr users.  Flickr has a tool called the Camera Finder that shows you the popularity of a particular camera over time.  So here's the result for my Maxxum 7D with a whopping 58 users yesterday:
And here's the Maxxum 5D with a big 90 users yesterday:
And, finally, here's the Sony A-100 (the replacement for the Maxxum 5D) with 193 users yesterday:
Popularity is overrated.
People Shots: Flip-Book Style
Photojojo has a link to A Healthy Dose of Photo Inspiration in the form of a digital flip-book by George Lange.  The photos are all people shots, and the flip-book moves very fast.  You almost have to watch it a couple of times to catch it all.  People photography is not my strong point, and I envy anybody that can do it well.  George Lange has done it well, and I worship him for that.  George, you rock.  The photo of the day is a tribute to those who do people photography well.
Using Software to Correct Lens Distortion
About: Photography has some good leads for Correcting Lens Distortion using software.  Lens distortion can come in the form of either pincushion or barrel distortion (squeezed in or bulged out at the centers of the edges).  Photoshop can crudely fix the problem, but there are other software packages out there that help you target specific lenses.  I'm really considering picking one up because both of my zoom lenses exhibit some amount of distortion at their smallest focal lengths.  My 10-20mm has pincushion at 10mm and my 18-200mm has barrel distortion at 18mm.  Go figure.
Photo of the Day…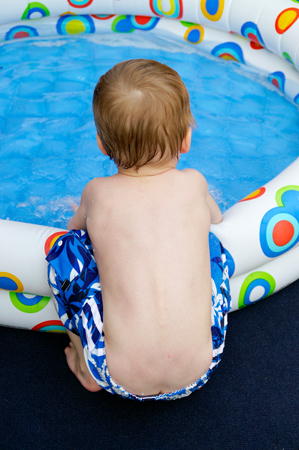 Photo by Brian Auer
05/28/06Â Flemington, NJ
Pool Boy (My Son, Rex)
Konica Minolta Maxxum 7D
Konica Minolta AF DT 18-200
105mm equiv * f/5.6 * 1/200s * ISO100