Displacement Maps, Photoshop TV, and World Press Photos
Using Displacement Maps to Add Depth
There's a great tutorial at PhotoshopSupport.com on using displacement maps.  A displacement map produces a 3D effect by combining one image with that of a texture map.  The example in the tutorial uses a flag as the image and a silk sheet as the map.  Really neat effect — I had no idea this could be done so easily.
Photoshop TV Episode 68
The Photoshop Guys at Photoshop TV have another video tutorial this week called "Photoshop TV Episode 68."  There's a really great part in there about using the healing brush and clone stamp tools.  They show their use on old or damaged photos, but these tools are vitally useful for a range of other applications.  If you're not comfortable with either of these tools, take a look at the video to start learning more.
World Press Photo Awards
Alright, I'm not the first to state it… but check out World Press Photo to see the winners from 2007.  I just got around to looking at them — and they're pretty dang good.  What an emotional roller coaster though!  These are some of the most amazing photos of 2006, and it's worth spending 1/2 an hour looking through the winners for each category.  This world we live in is an amazing and terrible place — if you've seen the photos, you'll know what I'm talking about.
Photo of the Day…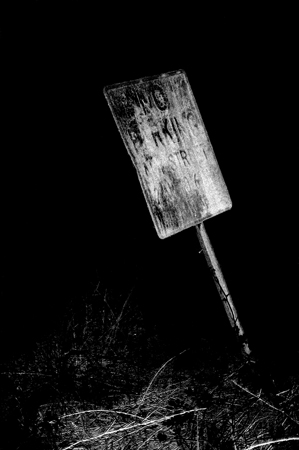 Photo by Brian Auer
08/07/06 Three Bridges, NJ
Old Rusted "NO PARKING" sign on an abandoned road
Konica Minolta Maxxum 7D
Konica Minolta AF DT 18-200
67mm equiv * f/4.5 * 1/30s * ISO200