Liquid Sculpture, White Balance, and Cold Weather
High Speed Photography Tips
Martin Waugh is a master of stop-action photography when it comes to liquid sculpture.  His photographs are stunning in beauty and technical detail, and he writes about how it's done in his blog.  There's a bit of equipment involved in high-speed photography, but it's well worth the cost if you can produce images that even compare with Martin.
How to Deal With White Balance
The Photocritic has a very good in-depth article on "Everything About White Balance".  The article is technically oriented with good application advice to support it.  It talks about things like the nature of light temperatures, how to adjust for white balance, mixed lighting situations, and more.  This is a good example of why RAW work-flow (if your camera supports it) can be a real lifesaver when the camera doesn't quite get it right.
Cold Weather Photography
For those of us in cold weather climates this time of year, Peter Marshall at About: Photography has posted this "Quick Tip: Bad Weather".  He's got a couple of links to some resources for photographing in poor weather conditions, and he brings up the point that many good photographic opportunities will be lost if we stay inside all winter.  So get out there and shoot!
Photo of the Day…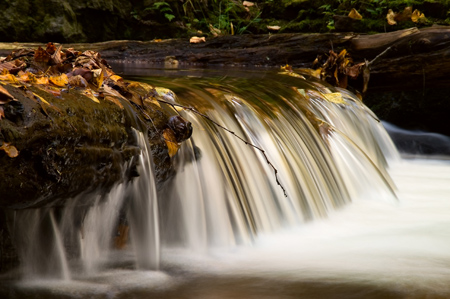 Photo by Brian Auer
10/07/06 Delaware Water Gap, NJ
Small waterfall on a creek feeding into the Delaware
Konica Minolta Maxxum 7D
Konica Minolta AF DT 18-200
195mm equiv * f/16 * 2.0s * ISO100