X-Rays, 10-Tips, and Pocket Printers
X-Ray Photography as Fine Art
The folks at Macro Art In Nature take a look at "X-Ray Art – Beautiful Imagery By Hong P. Pham, M.D.".  Hong's images are very artistic in nature and create a sense of frailty and fineness in comparison to traditional photographs.  A majority of Hong's work is with various flowers (both in color and black & white), but there are additional images of sea-life creatures.  Hong offers prints of these amazing images for a very reasonable price.  I'm very much considering picking up 4 or 5 flower shots for decoration.
10 Tips for Amateurs
Christopher Anderson at Picture Correct posted an article titled "Ten Easy Tips for Taking Better Digital Pictures".  He goes over some basic rules for composition, exposure, manual controls, and evaluating your work.  I agree with most of what is said in the article, but I can't help but put my two cents in.  Christopher states that you should never depend on Photoshop or other editing tools to enhance the quality of a photo or fix mistakes.  I disagree.  Photoshop is a great tool, and is just as (if not more) critical in photo creation as darkroom techniques are with film photography.  Don't get me wrong — if you over-do it with Photoshop, the results are poor at best.  But no photo comes out of a digital camera ready for printing and hanging in the art gallery — they need adjustments and touch-ups.  My other disagreement with the article is that he says to avoid underexposure at all costs.  I disagree.  Avoid OVEREXPOSURE at all costs (though he does mention this one too).  Blown out highlights are more distracting than underexposed shadows.  If you have to make a choice, underexpose — it will save your image.  Other than that, good stuff.
A Printer That Fits in Your Pocket?
This is pretty neat if you're into gadgets like I am.  Rob Beschizza at the Wired Gadget Lab looks at a compact printer in his post titled "Zink Puts a Printer in Your Pocket".  The device prints out 2″x3" photos, so I'm guessing it's only a little bigger than that.  What's really neat is the technology that is used to create the image — no ink!  The "ink" is on the paper and the printer makes it show up in the right colors.  Probably not great for gallery quality prints, but cool idea for weekend trips or vacations.
Photo of the Day…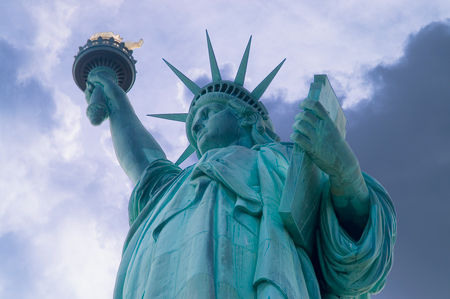 Photo by Brian Auer
06/28/06 New York, NY
Statue of Liberty from base of statue
Konica Minolta Maxxum 7D
Konica Minolta AF DT 18-200
135mm equiv * f/11 * 1/200s * ISO100