Camera Handy, Camera Holding, and Photoshop Tips
Keeping Your Camera Handy
Peter Marshall at About: Photography presents an article today called "Quick Tip: Keep Your Camera Handy".  These are perfect tips for those times you're out with your camera.  There's nothing worse than missing an opportunity after fiddling around with your camera to get it ready.  He goes over things like using neckstraps, holding the camera, and keeping the lens cap off.  To add to these tips, I'll share some of my personal techniques that I use in the field.  1) Keep the camera on — most cameras will go into "sleep mode" when not in use to save battery, and the startup time is usually quicker and more seamless using this method.  2) Keep the camera in priority mode — let the camera make the aperture and shutter speed decisions when time is of essence, and switch to manual controls when you know you have the time to do so.  3) Use auto white balance — again, let the camera make the decisions in time constrained situations, you can always change to manual balance or other presets when you have time.  These are the things I commonly do when I'm wandering around waiting for an opportunity to strike, otherwise I'll use the camera's manual features for more control.
How to Hold a Camera
The guys at Tips From the Top Floor posted a short tutorial video called "How to Hold Your Camera".  This one is short and sweet, about 2 minutes.  The address how to hold a dSLR and a compact camera to avoid camera shake.  When you avoid camera shake, your photos will turn out much sharper and you'll avoid tossing out a good deal of shots.
Photoshop Tips
"The Photoshop Guys" at Photoshop TV put out another great video tutorial today — "Photoshop TV Episode 65".  They go over two main topics in this episode: 3D text effects and how to use the Apply Image command.  The text part is good if you're doing any of your own graphic design work, I was pretty surprised at how relatively simple it is.  The Apply Image tutorial is something that's worth experimenting with if you want to create an image composed of multiple images.  I've seen this technique used to apply textures to a photograph and results in a somewhat-abstract image.  The first 17 minutes of the video is tutorial, and the rest is photography news.
Photo of the Day…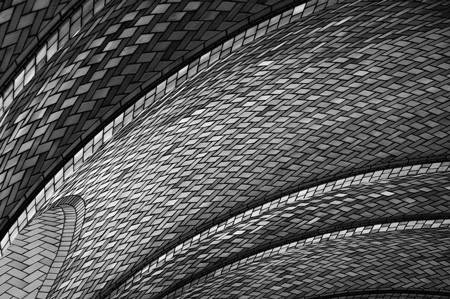 Photo by Brian Auer
11/05/06 New York, NY
Interior ceiling of Ellis Island building
Konica Minolta Maxxum 7D
Konica Minolta AF DT 18-200
157mm equiv * f/5.6 * 1/60s * ISO400