Jumpers, Numbers, and Sidewalks
Leaping Photographer
Mike Johnston at The Online Photographer showed off some pretty interesting photos in his post called "Point of No Return?".  I don't even know what to say here.  I saw these photos of this moron in flip-flops doing a little cliff jumping in the grand canyon, but that wasn't the worst part.  He was also carrying his camera equipment in one arm — turning himself into a 3-legged spider monkey.  I've got to question whether his efforts were really worth the risk.  I mean… he could have dropped a perfectly good camera.
That's a Whole Lot of Cameras
Mark Goldstein at PhotographyBLOG shared some crazy numbers regarding digital camera sales in his post called "130 Million Digital Cameras by 2010".  This is amazing to me.  The fact that the world consumed nearly 100 million digital cameras (not including cell phone cameras) in 2006 alone is pretty stunning.  That's 1/3 the population of the United States!  In one year!!!  Where do all these things end up?  And who's buying them?  I know I'm pretty conservative when it comes to cameras and photo gear — I usually only buy one per year.  It's not my fault though, they die after about 3 or 4 years and I have to get a replacement to maintain the arsenal.  3 is a good number.  Right?
Sidewalk Stories
Ken Tanaka at The Online Photographer posted a good article called "What Are Your 'Sidewalks' Stories?".  It's a good post promoting a documentary-type book.  But really, in disguise, this post is inspirational and motivational in character.  He urges us to get out there and take more pictures — to see the beauty in everyday things rather than just walking all over them.  I know I'm guilty of not being creative lately, but it's so darned cold outside and my camera doesn't have a winter coat.
Photo of the Day…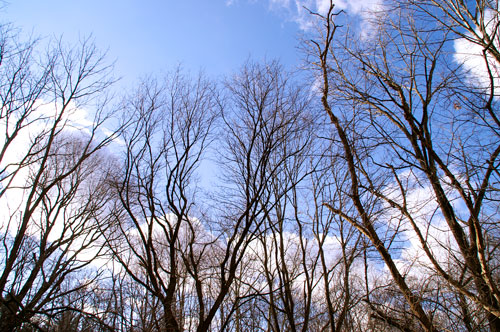 Photo by Brian Auer
12/27/06 Three Bridges, NJ
Winter trees in New Jersey
Konica Minolta Maxxum 7D
Konica Minolta AF DT 18-200
27mm equiv * f/9.5 * 1/125s * ISO100